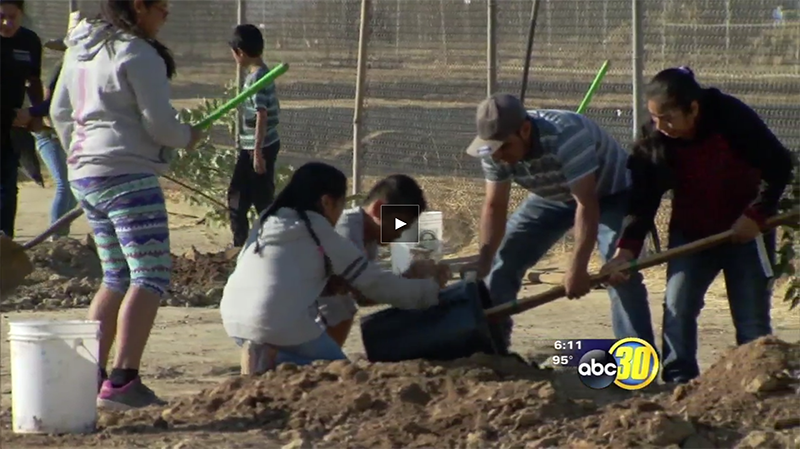 SOUTHWEST FRESNO SCHOOL DISTRICT HOPING A NEW PROJECT WILL IMPROVE AIR QUALITY FOR STUDENTS AND STAFF
FRESNO, Calif. (KFSN) —
Trees are finding their roots at West Fresno elementary and middle schools. The district is in the middle of a four-day planting event in partnership with Tree Fresno.
"I'm very excited because we'll be having shade provided for us here in West Fresno. Because if you see the blacktop we don't have no shade and it gets really hot for us," said Emiliano Aranda, student.
Tree Fresno donated 100 trees as part of a grant from Cal Fire and PG&E. They are being planted by 40 fifth graders at West Fresno Elementary School, plus their parents and community members.
"We were digging two feet deep holes. The next thing we had to do is pound the container so the soil would come out good," said Aranda.
"These students are students who have demonstrated leadership qualities and appreciate volunteering and providing their time on campus to extracurricular things," said Toshia Foth, Principal.
Donating their time to do more than beautify the campus. The trees will not only provide shade but hope to protect the students during bad air days.
"We are planting the Chinese Elm, the Zacova, and the Chinese pistache," said Aranda.
"These trees all produce lots of shade and they're air quality warriors. They either filter or absorb carbon. They call it carbon sequestration," said Lee Ayers, Tree Fresno.
The kids aren't done planting– Wednesday they will plant the remaining 15 trees here at West Fresno Elementary School.