Greenway Care Fancher Creek Parkway
Fancher Creek Parkway is an important part of creating a Valley Arboretum, a system of greenways connected throughout the City of Fresno. Continued support by the community is vital to maintaining the trees of the Fancher Creek Parkway.
Where:
Volunteers will meet at the trail crossing at 8am on the corner of Butler and Dewitt Avenue in Fresno, California. A good Address to GPS is:
5556 East Butler Avenue
Fresno, California 93727
What to Expect:
Volunteer duties of the Parkway include pruning trees, picking up debris and clearing underbrush. T
he activity level is moderate.

What to Wear:
Please wear durable clothing. Work gloves, Long sleeves, boots, and long pants are best when
working around the branches and tall grass.
What to Bring:
Water is a must have on the Parkway, so bring along a bottle of water or two. If you have not turned in your Volunteer Waiver Form please bring it as well.
Click here to download waiver form
Please contact Brianna Woodsford for more information
(O) 559.221.5556
(M) 559.473.7682
(E) brianna@treefresno.org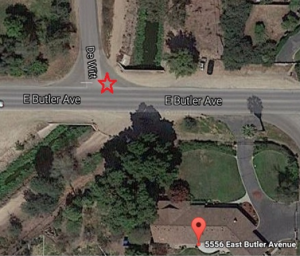 Event Location
Fancher Creek Parkway
Fresno, California, 93727
Days
Hours
Minutes
Seconds