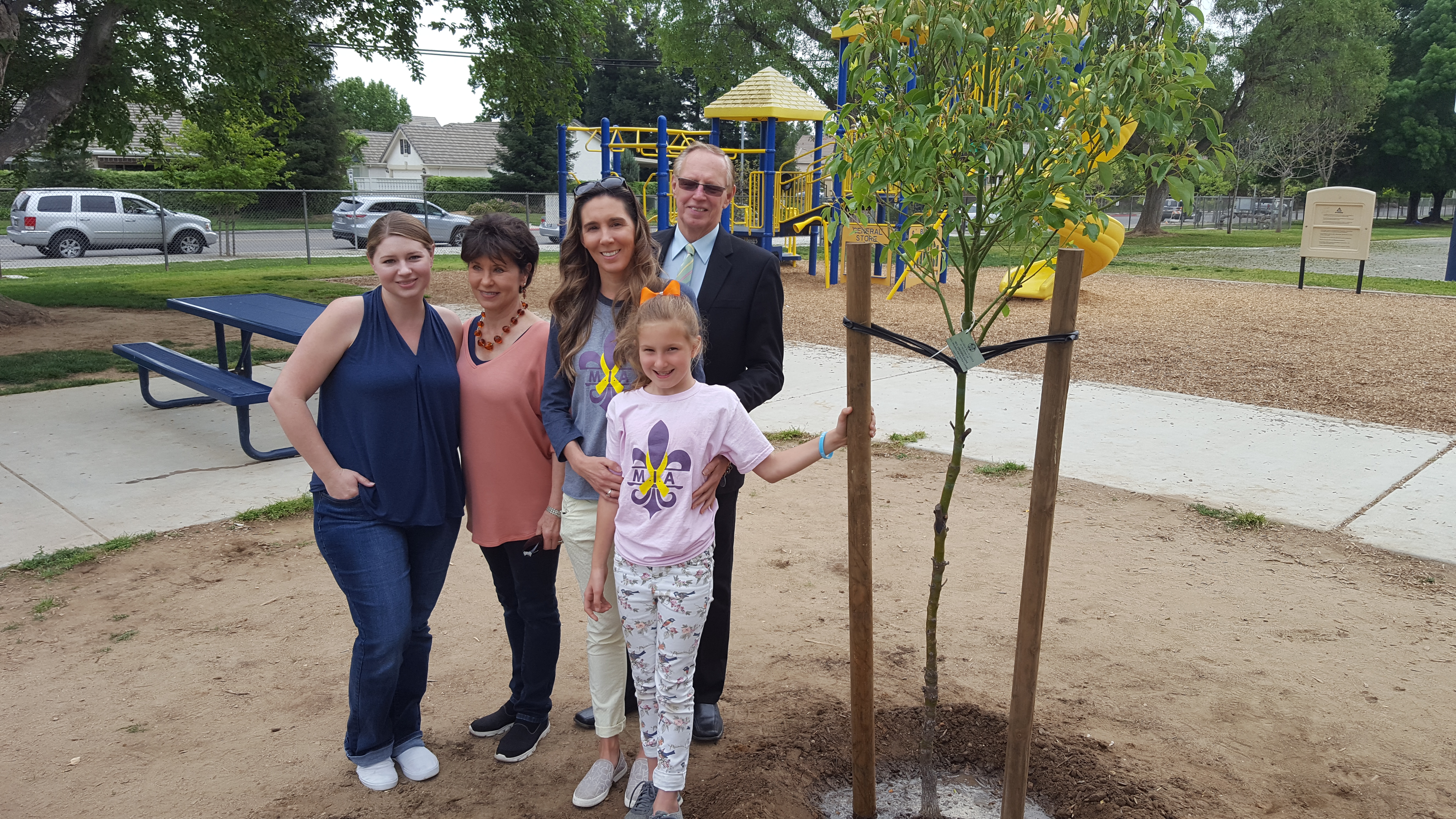 On April 6, 2017 at 1pm a Tribute Tree was planted in memory of Mia Amendolagine at Malloch Elementary School in Fresno. It was also planted in memory of 'All Children Who Battle Cancer'. Mia's classmates, friends, teachers and administrators were all there. Mia's Grandmother, Mother and Sister all spoke with great passion and strength. It was a wonderful tribute to a beautiful young lady who was taken from us too soon. Many of us were moved to tears.  The Tree Fresno staff spoke about the tree, a Camphor. The Tree was prepared and planted. Mia's sister and friends all help plant the tree. The exact location was noted as N36*49.287 Latitude and W119*49.878 Longitude.
THE FRIENDSHIP TREE   APRIL 6, 2017
By Becky Chambers
Today a tree is planted in memory of Mia Chambers Amendolagine and in honor of her many friends, neighbors, faculty, students and family.  We take a moment to acknowledge that there are illnesses and hardships that students may suffer in their lives and it is the friendship, camaraderie and compassion of our community that helps them during the tough times.  Here at Malloch we have a beautiful example of such help.  This similar experience is reflected in nature so let us now consider and honor it with the planting of this tree.
An important forest and tree scientist named Suzanne Simard discovered a network of communication and cooperation in the forests about 25 years ago.  At that time she conducted a study in the Canadian forests.  She found that trees talk to each other by means of a "symbiotic or mutually beneficial" association with the mushrooms that have roots that grow underground and around them in a thick mat of threadlike connections interweaving within the ground of the forest.  A Hub tree or mother tree is able to shuttle carbon, phosphorus, water and resistance to harmful pests to other trees as she benefits from sunshine, water, and nutrients.  At other times she may receive water and similar boost to immunity from her kin as they give back when they are able.  This relationship allows for interdependence, cooperation and nurturing that increases survival and defense.  This is why forests have enormous capacity to self-heal, according to Ms. Simard.
It is comparable to what happens in the human community.  When we lose a loved one, we are fortunate when we retain the threads of our relationships with family and friends, to shuttle the milk of human kindness, mercy and love between one another and to talk to each other, to reach out with a loving touch in mutual support and simply communicate that we are here for each other.
Thank you all for being a part of an extraordinary network that sustains Mia's family and friends as well as all who have met or will meet these challenges in the future.